If you have been a part of The Athletics of Business community for a while (some of you are going on six years strong, THANK YOU) you know well by now how intentional I am about teaching our kids through stories and experiences, and this was an occasion to teach them about overcoming fear and doubt by developing the never daunted mentality.
Some time ago Maddie, EJ, and I jumped into the truck and drove to Bloomington, Indianan to see what proved to be an epic women's basketball game between the #2-ranked Indiana Hoosiers and #4-ranked Iowa Hawkeyes.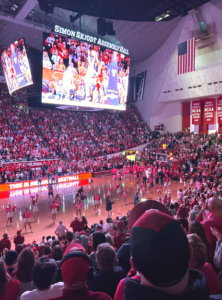 13,056 fans packed into a hot (had to be 95 degrees) Assembly Hall on a night dedicated to the fight against cancer and to celebrate cancer survivors.
We got to the game early to spend time with two great friends Aimee and Shawn Parrish, whose daughter starts for Indiana. Our friendship dates back over 30 years to when Shawn and I were first getting into the business of coaching college basketball.
I have been very fortunate to watch them raise two amazing daughters, Lauren and Syd.
Lauren had an amazing swim career at Kansas, and Syd was two-time Indiana Ms. Basketball and began her college career at the University of Oregon and then transferred home to IU to a program and fanbase who greeted her with open arms.
Sure, they are both great athletes, but they are even better young women whose character, commitment, and work ethic make them amazing role models for my children.
We do not see Shawn and Aimee nearly enough but I talk about them and the girls often to our kids, especially Maddie.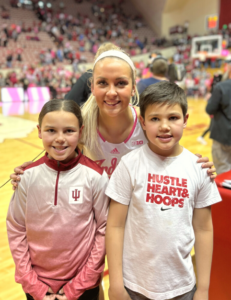 After the game I asked Maddie if she knew what made Syd so special and she replied with the usual, "she can shoot it from anywhere, sees the floor, plays hard, has a lot of fun playing,wears cool shoes."
Now, those are all very valid points but there was more, and now that I had her engaged and her brother somewhat listening I added a few additional points.
I explained to Maddie that what made her truly special was that she never forgets where she came from, is always true to who she is, respects the game, is an amazing teammate, and no matter how much physical and mental adversity she has been through she persists.
The team was pink shirts with the words "Never Daunted" on the front and yes, those words are in the school fight song.
But for me, as they asked all the cancer survivors to stand and Maddie and EJ held up their signs saying "I Fight For Grandma" I thought to myself…..every person in this building has a story and is connected to the phrase "Never Daunted" somehow. All 13,056 fans plus the athletes, coaches, workers, and media can connect to what Never Daunted means to them and their journey.
The Never Daunted Mentallity hHelps You Grow Through Adversity
At some point, we have all felt frightened or worried about our ability to achieve something.
As coaching leaders, we can help our team members achieve things on an individual and collective basis that they may not think they are capable of, and better yet, they are not even aware that it is a possibility.
Here is the thingevery person on your team is facing some sort of challenge that may seem daunting. Whether it be professional or personal, it can result in self-doubt, frustration, low self-confidence, resentment, bitterness, confusion, or anxiety.
How acutely aware are you of what is going on in their world and the impact it is having on them?
Are you hoping that their low energy or seeming distracted will pass?
Do you have any idea of how your team members respond under pressure or when their backs are against the wall?
Is there something about the story they are telling themselves that is keeping them from being resilient?
Having the "Never Daunted" mindset is not something we are gifted. It is something we develop over time as we face adversity, trials, and tribulations. The more chaos we successfully navigate the more we realize we are cable of growing through incredible amounts of adversity.
Those who are never daunted:
Recognize and acknowledge the situation immediately (think run to the fight)
Identify the challenges it poses
Acknowledges how it makes them feel
Let's go of those feelings
Focuses on the positive outcomes that are possible and puts a plan together to get there
Despite setbacks and doubt that tries to creep in, execute each day…often, moment by moment….to the best of their ability
The "Never Daunted" mindset is not accomplished alone and it is critical to surround yourself with the right people who are telling you what you need to hear, offer unconditional support, and keep reminding you of how far you have come.
Be that leader that your team members need.
Encourage them, share stories of others' struggles and victories with them, create an environment of psychological safety that gives them room to battle fearlessly, and let them know that you are taking this journey right beside them and you have their back.
And never stop telling them how much you believe in them.
#NeverDaunted
This was originally published as a weekly newsletter from Ed Molitor, with The Molitor Group. If you'd like to receive the weekly newsletter, follow this link to subscribe.