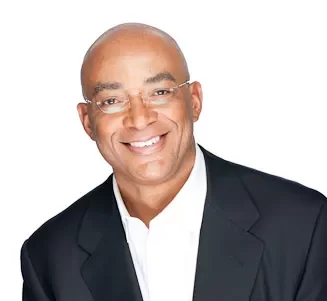 How does a poor kid from the housing projects make it to the corporate boardroom? For Steve White, it's the result of an uncompromising attitude and work ethic.
President of Comcast's West Division for eleven years, Steve launched his career in 1996 as Regional Vice President. A commitment to his why and the influence of mentors enabled him to demonstrate consistent growth for his teams and divisions, which led to increasing leadership responsibilities. Driven by continuous learning, radical responsibility, and unwavering commitment to excellence, Comcast's West Division became a pacesetter by delivering industry-leading results. 
Steve White was responsible for all Comcast Cable operations in the Western U.S., leading nearly thirty thousand employees, serving almost eleven million customers, and driving annual revenue of nearly $18 billion. If the West Division was a stand-alone company, it would be one of the top 150 companies in America. 
Today, Steve serves the role of Special Counsel to the CEO of Comcast Cable, the largest division of Comcast Corporation and one of the top 20 companies in the U.S.
Giving back and paying it forward are two of Steve White's life values. He has lived in Denver for more than ten years and champions causes related to family and education, such as the Denver Scholarship Fund. He serves on the board of directors for New Leaders, which focuses on the development of public school principals.
Steve recently published his masterpiece of a book, Uncompromising: How an Unwavering Commitment to Your Why Leads to an Impactful Life and a Lasting Legacy. Inspired by the lessons from every stage of life, and the people who influenced him along the way, form the basis of his overarching message: An uncompromising life is one where you stay true to what is important to you, what you believe in, and what you love.
An uncompromising approach to life means you are fiercely independent, radically responsible, scrappy, and possess an undistracted mindset. It also means you have an unwavering commitment to your fight, which is defined by your core values, passion, and purpose.
You uphold the courage of your convictions, stay locked in on your goals, get up when you fall and continue to forge ahead.
What you'll learn in this episode:
Why finding your purpose is so important

How Steve's hardships influenced his life and business core

How positive influence and reinforcement are essential to unleash potential 

How setting the bar of expectations right can be a powerful driver for growth

How to best support your team during leadership development

Why defining success is key before developing a plan

What the "7 Pathways" to success are
Additional Resources:
Get the Book "Uncompromising":
Buy on Website
Buy on Amazon