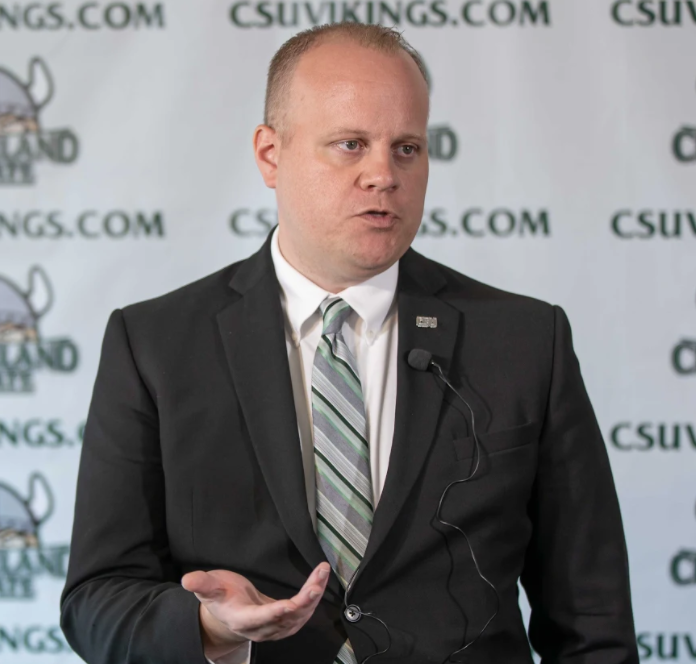 Cleveland State University announced the appointment of Scott Garrett as its seventh Director of Athletics on April 8, 2019. Garrett was formally introduced at a press conference in Cleveland State's Student Center by CSU President Harlan M. Sands. Garrett came to CSU after nine years at Kansas State University, where he served as Executive Associate Athletics Director with responsibilities in fan experience, fundraising, business operations, sport supervision and more. At CSU, Garrett will provide leadership and oversight for all of CSU's 18 NCAA Division I sports, $13 million operating budget, and over 330 student-athletes. "Scott Garrett is a very successful leader who has had a tremendous impact at every level of athletics administration he has touched. He is all about building a winning culture with integrity and values – both on the field and in the classroom," CSU President Harlan M. Sands said at the time of Garrett's hiring. "We are very excited that he will be joining our team, and I look forward to working with him as we build upon the athletic and academic achievements of our student-athletes." "I am privileged and honored to be named Cleveland State University's next Director of Athletics," Garrett said upon taking the position. "Throughout the search process I have been extremely impressed with President Sands' vision for CSU, the positive energy around campus and the numerous opportunities to move CSU Athletics forward." In his first year with CSU, department accomplishments under Garrett's leadership included:
Six head coaching hires (Sinisa Ubiparipovic in men's soccer, Hannah Burandt in swimming and diving, Dennis Gates in men's basketball, Andy German in lacrosse, Taylor Riggs in women's golf, and Amber Williams in track & field)
Nearly 30 individual staff hires, including Deputy Athletics Directors Tyler Jones and Kelsie Gory.
The department launched the Viking Fund, an annual giving program which attracted nearly 100 members in its' first year of existence.
Donors set a new record of giving with over $290,000 in donations on CSU Giving Day 2020.
Men's basketball attendance at the Wolstein Center improved by over 50% year-over-year.
Developed the new Athletics Directors' Leadership Council, an exclusive leadership program for a collection of student-athletes nominated by head coaches in each sport.
Women's basketball set a school-record with an eleven-game winning streak, leading to a 21-11 overall record and a run to the Horizon League semifinals.
Men's basketball outplayed expectations with its' first three-game win streaks in non-conference play since 2011-12 and conference play since 2014-15 – earning Head Coach Dennis Gates a Horizon League Coach of the Year award.
2ndplace conference finishes for men's and women's swimming and diving.
Women's golf setting the school record for an individual round.
Men's lacrosse earning their first-ever victory over a ranked opponent, a 12-11 win over No. 16 Air Force.
Andy Tulleners was named Midwest Fencing Conference Men's Coach of the Year.
Cross country, women's basketball, women's golf and women's fencing received the Division I Academic Progress Rate (APR) Public Recognition Award, each posting multiyear APR scores in the top 10 percent of all NCAA teams in their respective sports.
Individual Viking student athletes were recognized with 35 all-conference awards in 2019-20, highlighted by senior wrestler Evan Cheek's qualification for NCAA nationals and senior tennis student-athlete Nico Mostardi's program-record ranking of 93rdin the nation.
In the classroom, student-athletes earned 19 all-academic conference team recognitions and the department finished with school-record term GPA's in both the fall (3.31) and spring (3.66).
For the first time in school history, all 18 of Cleveland State's varsity programs earned a term GPA of at least a 3.00 during the spring 2020 semester.
In the community, student-athletes organized a number of service initiatives including a SAAC food-drive during Bleed Green Week and an Adopt-a-Family holiday gift program.
Prior to arriving at CSU, Garrett served as Executive Associate Athletics Director for External Operations and Chief Revenue Officer at Kansas State, where he was responsible for various aspects of department administration, including strategic revenue generation initiatives and fan experience programming. In his nine years at Kansas State, Garrett provided leadership that generated 46 sellouts in football, national Top 25 attendance rankings in men's and women's basketball, women's soccer, volleyball and baseball and a 40 percent increase in overall ticket revenue. Garrett's duties at Kansas State also included management of a donor portfolio accounting for over $1.5 million in contributions annually and over $2 million in major capital gifts over a two-year period. Garrett also spearheaded the department's strategic planning efforts on three separate occasions, while his duties also included sport administration oversight, including coaching personnel evaluations and search management. Garrett's previous stops in intercollegiate athletics include serving as Assistant Athletics Director at Wichita State University from 2008 to 2010 and Director of Sales and Ticket Operations, with fellow Horizon League member University of Illinois at Chicago, from 2003 to 2008. Garrett graduated with a bachelor's degree in business administration and marketing from Illinois State in 2002 and proceeded to earn a Master's in sport management and athletics administration from Indiana University in 2003. A native of Channahon, Ill., Garrett and his wife Kristy have two children, Matthew (13) and Audrey (9) and reside in Avon, Ohio.
What you'll learn about in this episode:
What three things Scott looks for when hiring a head coach
How he adjusted his leadership when COVID hit
Who were his biggest mentors and what are the biggest lessons he learned from them
Why vulnerability is so critical and how it helped the leaders in the athletic department at Cleveland State respond to the crisis
Where developed his passion for leading a college athletic department
What is the Athletic Director's Leadership Council and how powerful of the experience has been for the CSU student-athletes
Additional resources: