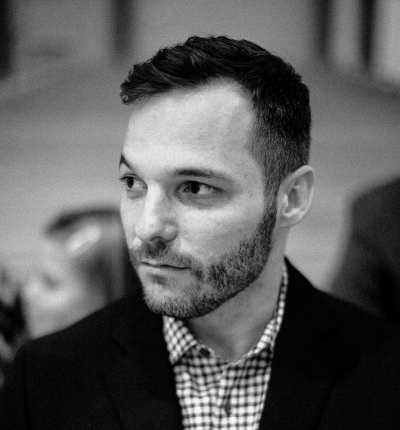 Phil Wall is an award-winning filmmaker who has written, produced, directed, filmed, and edited three feature documentaries, and is currently in post-production on his fourth. A coach's son, Wall played for his dad at Roanoke Catholic High School and traces his filmmaking journey back to creating highlight videos for his team's championship seasons. He lives in Brooklyn, NY, where he works on independent and commercial narrative content. Inspiration for The Standard (2:45) The Standard is a feature-length documentary about a 48-hour endurance challenge hosted by special forces combat veterans. Anyone can sign up to participate, but very few finish. GoRuck, a company that makes military-grade bags, apparel, and more, created the event to mimic combat situations and test their products.  Phil had worked on some early marketing videos for the company and participated in one of their 12-hour overnight challenges. Most participants finish this overnight challenge because it's centered on team building, but it was one of the most physically rigorous activities Phil, a longtime athlete, had ever done.  GoRuck ramped up their events a few years later and created their 48-hour challenge, a condensed version of the special forces assessment and selection criteria.   Takeaways From Filming (9:55) Both the participants and the cadre hosting the event enter an agreement: participants train and show up ready to do whatever the cadre tells them to; meanwhile, the cadre's job is to urge them to quit. They target the ones falling behind and give them special attention to convince them to quit, but a switch flips as soon as they do. The attitude turns to one of encouragement for how far they made.  It becomes clear their cadre are playing a role: one that's in indirect conflict with what they actually want. It's that conflict that inspired Phil to film The Standard. Whoever is out in front is winning, and the cadre capitalizes on that to make you feel like you don't belong. But the real standard is not quitting.  You can be the weakest link or lowest common denominator, but you might be the strongest in the next iteration. So it becomes getting to that next thing by redefining your role as needed and supporting those working around you. Recognizing when you're the weakest is invaluable and talking it out with who you're working with is the key to taking that next step forward. Filming The Book Keepers (18:20) Phil's recent documentary, The Book Keepers, is filmed from Phil's perspective. It follows his dad as he travels the country to promote Phil's mom, Carol Wall's, first book after her death. She received a book contract in 2010 for her memoir, Mr. Owita's Guide to Gardening, about her experience with breast cancer and how that coincided with a friendship she developed with a Kenyan gardener.  The book was released in 2014, but her cancer had returned during the final months of editing. She died in December of 2014, just one week before her book was named in the Top 10 of the Year.  Due to her illness, Random House canceled many promotional events and interviews, and she could never properly advocate for her story. So, Phil's dad began attending events on her behalf after her death.  For Phil and his family, it was a journey of loss many others could relate to, and The Book Keepers grew out of the need to capture that power of emotion. Storytelling was a way for not just Phil to heal but his family and his audience as well. The film premiered at the Austin Film Festival in August 2020 and won both the Jury Prize and Audience Award for Best Documentary Feature.
What you'll learn in this episode:
The inspiration behind Phil Wall's feature documentary,

The Standard

. 

What Phil took away from filming. 

Background on Phil's mom, Carol, and her memoir,

Mr. Owita's Guide to Gardening

.

How his dad's journey to promote the memoir after his mother's death inspired his film

The Book Keepers.

.
Additional resources: